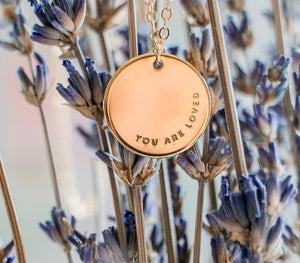 The necklace that is meant to be given away.
The You Are Loved necklace was created to be a reminder to the wearer of their priceless worth and value in Christ. The necklace is meant to be worn and taken off and given to the next individual whose circumstances need to be transformed by the message of love and security in their creator.
Wear it for a season, and pass it on when you meet someone who needs the reminder more than you do.
18" chain with a 5/8" diameter pendant
18k Gold plated*
Because each pendant is hand-stamped each one is unique and will vary slightly from the product photo.
*Pendant will tarnish and show wear and tear with age.