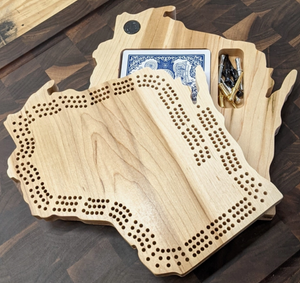 Grab some friends, your favorite cocktail and sit down to a game of cribbage on this beautifully handcrafted board.
These are hand made in Milwaukee, WI from Hard Maple for extra durability. Finished in an eco-friendly and durable finish for years of use.
Boards hinge open to reveal storage inside for the cards and pegs.

Wood pegs

Size (approximate due to shape) 8"X9"X1.5"