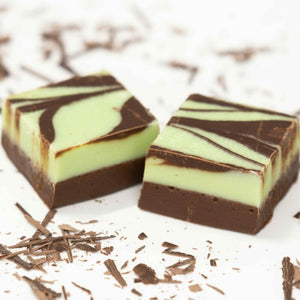 All fudge is 2 for $18. Discount will be applied automatically. 
It's a match made in heaven! This marvelous minty masterpiece features only the highest quality peppermint oil paired with decadent, creamy, milk chocolate fudge. It's a dreamy and divine creation ready to leave you dazzled!
All Valley Fudge is hand-crafted in small batches using 100% real Wisconsin butter.
Each ½ pound piece of fudge is made fresh to order and comes in a tamper-proof, recyclable container. Packaging is complete with a handy, little knife which is perfect for serving and sharing on the go.
This fudge will last at least 4 weeks at room temperature — Providing someone doesn't eat it sooner!