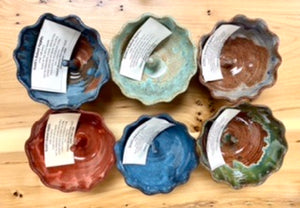 Remember baked apples like Grandma used to make?  Now you can relive those memories with these microwaveable Apple Bakers!  Just core the apple, put in a little butter, brown sugar, cinnamon, and microwave for 2-3 minutes.  Incredible gift for someone special or a treat for you! 
All Twice Baked Pottery products are food, microwave and oven safe. 


*due to the handmade nature of these bakers, the colors and sizes will vary slightly*
Christmas gift
I bought this as a Christmas gift for someone who likes sweets but doesn't bake.
I think he will love it because it is super easy!