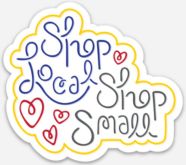 Show the world that you love to shop locally and support small businesses while encouraging others to do the same!
Our "Shop Local & Small" vinyl sticker looks great as a bumper sticker, laptop decal, or as an accessory for you phone or water bottle. These small stickers also make great stocking stuffers and small gifts for friends, family, and small business owners!
Size: Approximately 3" wide x 2.66" high
Material: Each of our vinyl stickers are durable, scratch-resistant, waterproof, and proudly made in the USA! They are even dishwasher safe!
Colors: Shades of yellow, blue, gray, red, pink with "Shop Local Shop Small" hand lettering on a white background
Artwork Design: "Shop Local & Small" - an original artwork design by Shelley Schmidt.
Professionally printed in the USA - Designed with pride in Madison, Wisconsin.