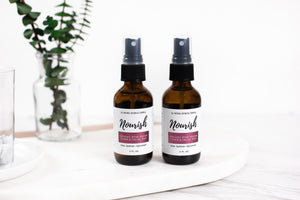 A petal-powered beauty pick-me-up. Nourish Rose Water Toner & Facial Mist is a versatile beauty aid offering myriad skincare benefits, including: 
Tones and hydrates skin

Strengthens skin cells and regenerates skin

Removes dirt & oil from clogged pores

Restores pH balance

Soothes acne, irritated skin, scars, and cuts

Reduces redness and blotchiness

Reduces likelihood of fine lines and wrinkles

Soothes scalp inflammation and dandruff

Enhances mood and emotional well-being

Promotes calm and sleep when used as a pillow spray
100% pure and organic, this treasure is a luxurious hydrosol expertly crafted from handpicked Bulgarian rose petals using gentle water-steam distillation. Convenient two-ounce size is travel friendly to carry on and keep skin hydrated in dry plane cabin. Gentle and suitable for all skin types.
Ingredients:  100% organic rose hydrosol gently steam-distilled from hand-picked Bulgarian Rose petals
Directions:  Toner: Wash face. Spritz cotton pad and wipe gently over face, neck, and chest. Follow with moisturizer or facial serum.
Facial Mist: Spritz face to set makeup. Spritz throughout the day to refresh.
Size: 2 oz glass bottle with atomizer