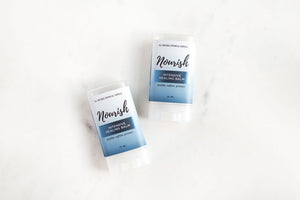 Soothe. Soften. Protect.
Maybe you already know that your skin is your largest organ. And it's just kinda out there...all exposed! Give dry, weary skin a little TLC with this creamy, multitasking Intensive Healing Balm. The "use for" list is a mile long...like soothing dry, cracked skin from so much hand washing. Or protecting chapped cheeks from windburn and frigid temps. Or comforting scars, scrapes, and even bug bites.
Enriching natural moisturizers plus a touch of healing vitamin E blend together to offer a protective and skin-softening balm. Gentle enough to use on your face.
100% organic ingredients, including:
Organic Coconut Oil, Organic Shea Butter, Organic Beeswax, Non-GMO Vitamin E (Gluten-Free)
Organic Essential Oils: Frankincense, Lavender
Directions:  Generously apply to skin in need of special attention and massage until absorbed. Apply as often as needed.
Size: 15 ml