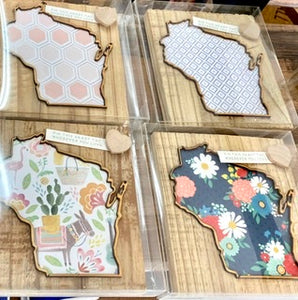 Love where you live with these cute Wisconsin minis! All states are lasercut from premium patterned paper, mounted on reclaimed wood blocks sourced from the midwest, and then hand-assembled with lasercut edging to finish it off. All minis include a wooden heart tac to pin 'where you love.' Hung on your wall, or propped in a cozy nook, WI minis are a great way to add a little modern rustic charm.
*Contact us for in stock patterns or let us know what color/patterns you like in the checkout notes! 

Each piece is 6 inches tall and about 5.5 inches wide (depending on the board used). Their small size is perfect for combining together to make your own unique collection. Blocks include hangers on back to be easily hung, or can stand alone. Due to the nature of reclaimed wood, not all pieces will look the same in color or characteristics. Each piece is hand-picked for their individual charm.