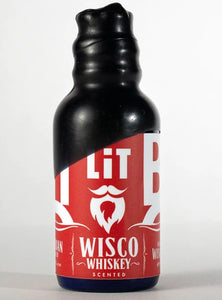 LiT Wisco Whiskey beard oil takes their top ranked beard oil and blends oak, tobacco, vanilla, sandalwood, bourbon, and red cherry to produce a sweet, smooth scent inspired by supper club old fashioneds-- a true Wisconsin tradition. Handcrafted in small batches and precisely blended for quality, our exclusive mix of premium, natural, and Organic oils is rich in the nutrients your beard needs. Your beard will LOVE this.


Benefits
Simple and Easy Beard Care and Repair

Leaves hands feeling soft, not greasy or oily, when you run your hands in your beard

Relieve Annoying Itch for New or Established Beard Length

Reduce and Eliminate Unsightly "Beardruff" On Your Clothes


Promote Healthy, Full Beard Growth

Adds Shine and Charm

Automatic Wisco Street Cred

How to Use
Use daily for Instant Wisco Street Cred. It can be used on stubble length to help your skin from getting that early beard itch, all the way to an insanely long length beard that needs to stay fed.

LiT Beard Co products are designed for every man, so use it how you like on wet or dry beards. Add a few drops to your hands and rub them slowly coating from root to tip OR use the dropper to add a few drops directly to your beard. Reapply as often as you like to maintain a consistent odor or achieve your preferred level of shine. Once you pop the cork, use the dropper or recork.


Ingredients
Handcrafted for the highest quality.

100% Organic Golden Jojoba Oil

100% Natural Cold Pressed Argan Oil

100% Natural Cold Pressed Virgin Cannabis Hemp Oil

100% Natural Virgin Grapeseed Oil

Tobacco Vanilla Fragrance Oil

Sandalwood Bourbon Fragrance Oil

Red Cherry Fragrance Oil

Oak Fragrance Oil