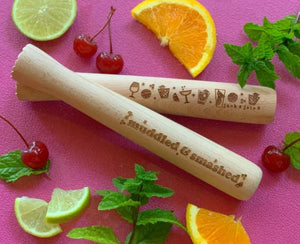 Get MUDDLED & SMASHED the right way! 
Gone are the days of using the handle of your wooden spoons to mix cocktails. Introducing the cutest & booziest muddler for all your deliciously handcrafted cocktails! A necessity for Old Fashioneds, Mojitos, Brambles, Juleps & of course – Smashes! 
The perfect addition to your home bar or gift for your mixologist bestie! 
Care Instructions: Hand wash with soap and warm water. Fully dry with clean towel. Do not run through the dishwasher – it will lighten the color of engraving.
1, 8″ Unvarnished Hard Wood Muddler
Textured Diamond Grinding Base
Double Sided Design
Jack & Joie Original Design
Handwash Only