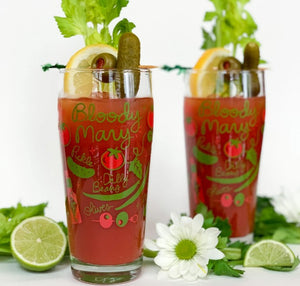 Have a bloody good time while crafting the perfect cocktail in one of our Bloody Mary glasses!
This retro inspired design showcases a smorgasbord of delights that can be found in this tasty cocktail. When it comes to Bloody Marys, more is always better!
Become the life of the party when you bring these adorable glasses to your next Brunch soiree!
P.S. Don't forget the chasers! 😉 (sold separately)
Originally designed + made in the USA.
16 oz.
Bright Red & Green Graphic Wrap
Dishwasher safe – Top Rack Recommended
Jack & Joie Original Design
Made in USA