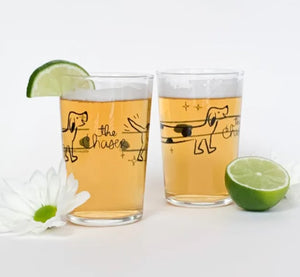 Don't run around in circles chasing your tail – let our little dog, "The Chaser" do it for you!
Meet the only chaser glass you'll ever need!
It's the perfect chaser to our Bloody Mary glass, and works just as well as a juice, water or wine glass.
Originally designed + made in the USA.
6.75 oz.
Shiny Black Graphic Wrap
Dishwasher safe – Top Rack Recommended
Jack & Joie Original Design
Made in USA