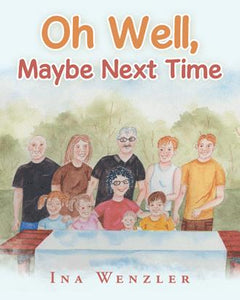 About the Book 
Oh Well, Maybe Next Time is a gentle way of saying, "no." It teaches children to understand disappointment with hope that it will work the next time. Ina has used this phrase with her own children, her students and her grandchildren.
This children's book follows the adventures of a grandmother and grandfather as they have fun and exciting days with their grandchildren. They read book, catch butterflies, fight imaginary dragons build a tent on a clothesline and visit an amusement park. Young readers will enjoy the familiar scenarios of spending time with their grandparents, and parents will appreciate the important lesson of having patience and a positive attitude.
About the Author
Ina Wenzler is a retired teacher, writer, story teller and the Co - Chair for her local Relay for Life. She lives with her husband, Rick, in picturesque Port Washington, Wisconsin. Their grandchildren love to visit and explore special places along the Lake Michigan coastline.