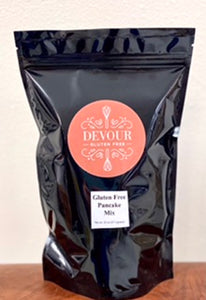 This pancake mix contains 5 batches of pancakes, each yielding 5-8 pancakes or 2 waffles. 

Ingredients: Brown rice flour, potato starch, tapioca flour, sugar, baking powder, salt and xanthum gum
All Devour products are produced in shared commercial kitchen taking precautions to avoid cross contamination. 
Gluten-free pancake mix
This is the best gluten-free pancake mix that I have found. Thank you for carrying this product
Fabulous GF mixes
Best GF Chocolate Cake & Frosting I have ever had.