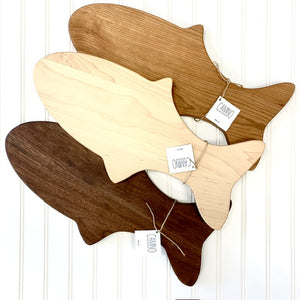 This rectangular cutting board is hand shaped and carefully sanded until perfectly smooth. It has been finished with mineral oil and food safe wax. Use this board for your every day kitchen needs, or as a unique serving board combo for cheese, fruit, and crackers.
Size: 18" long and 9" wide at fins

We recommend choosing one side to cut on, as sharp knives will leave a mark on this long grain board. Handwashing and drying along with a periodic refresh with mineral oil and/or food safe wax will ensure the long lasting beauty of this board.

One of the things we love most about wood is that every piece is different from the next. Therefore, there will be variations in the grain and color of your board, making it uniquely yours!