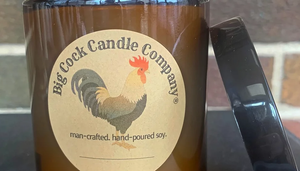 Distinctive, provocative and man-crafted to arouse the senses. Big Cock Candle Company uses unique, strongly-scented fragrance formulas, crackliwood wicks and hand-blended para-soy wax. 
These high-quality ingredients allow for a slow, clean burn of approximately 40-50 hours and a permeating, room-filling hot scent throw (once burning). To ensure a consistent and slow burn, please make sure the wicks are trimmed (use your index finger to rid excess burned wood). 
Scent Profiles

ASPEN PINE (seasonal): This favorite winter scent has the uplifting aroma of majestic Ponderosa pine combined with fresh, invigorating Aspen pine supported by other slight woody notes. Great for the holidays and all winter long.
BALSAM & FIR (seasonal): A refreshing outdoor, woodsy holiday blend of balsam and fir notes dominating on a base of light cedar and a hint of warm musk. A scent reminiscent of a hand-harvested Christmas tree.
BASIL & CEDAR: A fragrance captivating the scent of wild-grown sweet basil covering a vast cedar forest floor. Clean notes of basil blended with spicy, woodsy notes of cedar unlock a fresh, clean and grounding experience.
BLACK AMBER: Exotic, intriguing and sensual, this fragrance has year-round appeal with its sweet and sultry fusion of mandarin, jasmine and rich black amber mingled with undertones of sandalwood, vanilla, musk and cedar. A favorite for both men and women of any age.
FALL FOLIAGE (seasonal): Reminiscent of a cool, sunny Autumn day walking through the forest on a bed of freshly fallen leaves. This warm and inviting fragrance starts with top notes of cinnamon, citrus, and chrysanthemum. At the core, the sweetness of apple and berries combines with green leaves. Cedar base notes enhance the outdoor earthiness, while balancing the infusion of fruit, spice and wood notes.
FARMHOUSE CHRISTMAS (seasonal): Reminiscent of an old-fashioned Christmas gathering on the farmstead, this fruity, spicy bouquet with cinnamon, clove, fir needle, ginger root, and pine with a touch of freshly picked apple will surely bring back Christmas memories of yesteryear.
PUMPKIN & CLOVE (seasonal): Reminiscent of autumn festivals, pumpkin carving, and bonfires, toasty top notes of clove, cinnamon and nutmeg give way to middle accords of silky buttercream and pumpkin. A perfect match for those cozy Autumn evenings.
SUEDE & HICKORY: Dominant base notes of bergamot, leather, lavender, geranium, cypress, and sandalwood are combined with top notes of suede, spiced musk, and tobacco. A perfect year-long candle that gives way to a masculine, yet soft and unassuming presence.
LAVENDER LEATHER: Combined with the unmistakable scent of lavender and the warm sensual and exotic qualities of worn leather, this scent comprises notes of leather, spicy saffron and calming amber. Truly timeless and unforgettable. A perfect blend of masculinity and femininity.
TOM: As sultry as the man himself (Tom Ford), oud wood is one of the most rare, precious, and expensive ingredients in a perfumer's arsenal, often burned in incense-filled temples. Exotic rose wood and cardamom give way to a smoky blend of rare oud wood, sandalwood, and vetiver. Tonka bean and black amber add warmth and sensuality.
TUSCAN LEATHER: A beautiful, warm and erogenous fragrance combining worn sun-soaked leather surrounded by notes of smoldering incense, wild berries, brushed suede and red thyme leaves. This candle fragrance does not at all resemble a pure leather scent, but rather soft leather touched with a hint of fresh powder blended with sensual smokey and sweet berry notes.
VANILLA TABAC: Spicy tobacco leaves intertwined with rich vanilla give way to a warm and inviting candle. Perfect for that rainy day or snowy evening – sitting in a cozy den in front of a roaring fire. A distinctive fragrance blend suited for both men and women.
Love It!
Purchase the leather candle and absolutely love the smell.