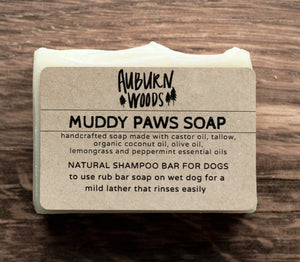 Pamper your best friend with this all natural shampoo bar for a soft shiny coat. Muddy Paws bar soap is low sudsing which means less time in the rinse mode (that is not their favorite part). It contains pure essential oils for a fresh, clean scent. Of course even though it is made with natural ingredients, always test in a small area first because every dog is different. (4.5oz)
To use: rub the bar of soap on wet dog for a low suds mild lather that easily rinses off leaving your best friend fresh and clean and ready to play. Easier to use than a bottle of dog shampoo and no waste.
Ingredients: castor oil, organic coconut oil, tallow, olive oil, lemongrass, peppermint essential oils.