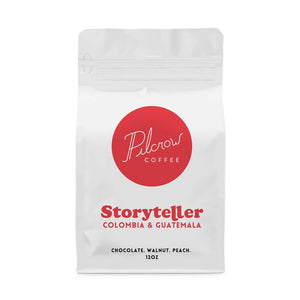 Storyteller is our seasonal house blend that's designed to be tasty any way you brew it. With a creamy body, and tasting notes of chocolate, walnut, and peach; Storyteller will please the seasoned coffee vet to the new kid on the coffee block.
The Coffee: Colombia: El Obraje; Guatemala: El Injertal; Guatemala: Finca Las Moritas
Grind: Drip OR Whole Bean (12 oz only)

Size: 8 oz OR 12 oz

First time purchase
Very nice subtle blend of chocolate, walnut and peach. Would definitely purchase again.
Great Coffee
Locally Inspired always has the coolest brands and the best gift ideas around. Pilcrow was a diamond coffee find! - Thanks Kelly!