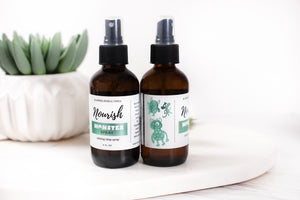 It's hard to be scary when you smell like lavender.
Let's be honest—even little fears somehow morph into big boogie men when the lights turn off. Empower your kiddo to take action against fear and anxiety with our calming Monster Spray. Just a spritz in all the spooky spots makes your little one the big hero in the nighttime search for Things that go Thud in the night. 
Ingredients:
Organic Lavender Essential Oil
Organic Cedarwood Essential Oil
Witch Hazel
Distilled Water
Directions: Spray under your bed, in your closet, or anywhere you last spotted a monster. Upon contact, the monster will vanish immediately. This Spray works on invisible monsters, too! 
For Parents: This spray contains ingredients known to promote calm and restful sleep, and works on grown-up monsters and fears, too. Try a spritz in the bedroom and on your pillow for peaceful Zzzzz's. 
Size: 4 oz / 2 oz glass bottle with atomizer.