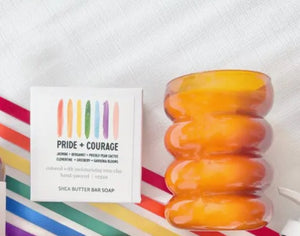 Modern Makers signature Pride + Courage scent has notes of: jasmine + bergamot + prickly pear cactus + clementine + greenery + gardenia blooms. Bright + cheerful!
The Pride + Courage Collection offerings: - 10 ounce Bubble Jar Candle - Shea Butter Bar Soap 
As a way to give back + support the community, Modern Makers donated 5% of their wholesale sales from the Pride + Courage Collection to Courage MKE during the month of June! Check out more about the way Courage MKE supports LGBTQ+ youth & ways you can be involved here: https://www.couragemke.org/.