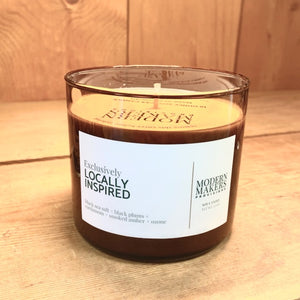 A little about these hand-poured candles:

100% (midwest-grown) soy wax | lead-free braided cotton wick

fragrance + essential oils
approximate burn time 60-70 hours
Net wt. 17 oz. // jar 18 oz
Scent: Locally Inspired was created specifically & exclusively for our shop. Black sea salt + black plums + cardamon + smoked amber + ozone. 
Candle care is important. Here are some tips for an even, clean, + consistent burn:
Initial burn // memory burn: make sure to keep your candle lit until the entire pool of wax reaches the edges. This first burn sets the tone of relighting your candle + ensures an even burn from that point forward. If you extinguish your candle flame before a full melt pool, your candle will likely result in tunneling.

Don't forget to trim your wick before relighting your candle each time.

Keep your candle away from drafty areas.

Keep your candle out of reach of children + pets.