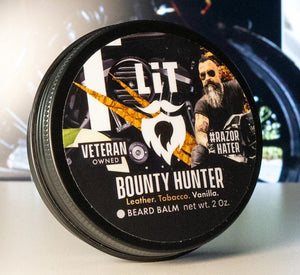 Smells Like: Leather. Tobacco. Vanilla.
Benefits
Simple and Easy Beard Care and Repair

Leaves hands feeling soft not greasy or oily when you run your hands in your beard

Relieve Annoying Itch for New or Established Beard Length

Properly Moisturize, Soften, and Nourish Skin and Hair

Adds Shine

Tame Flyaways

Description
This scented balm blends tobacco, vanilla, and leather to create a truly masculine scent that will make every other man within smelling distance recognize your dominance.


How to Use
This balm works in all situations and hits on everything your beard needs. Temperature changes may make the balm feel a little grainy. That's ok! Just work the balm in your palm or between your fingers and thumb to warm and remove the graininess.

This was made for all beards, so all ways can work. Take your index and middle finger and rub them on the balm. Rub them together to warm it and work it into your beard. You can do it with damp or dry beard hair. Or, apply a bit by dragging a brush across it and brushing into your beard directly. Reapply as often as you like to maintain a consistent odor or achieve your preferred level of shaping. Use your hands or a brush to create your desired shape.

Ingredients

100% Pure Organic Cosmetic Grade White Beeswax
Naturally Enriched Pure Unrefined Raw Shea Butter
100% Natural Mango Butter
100% Pure Golden Jojoba Oil
100% Pure Organic Fractionated Coconut Oil
100% Pure Cold Pressed Therapeutic Grade Hemp Seed Oil
100% Natural Pure Cold Pressed Argan Oil
Tobacco Vanilla Fragrance Oil
Leather Fragrance Oil