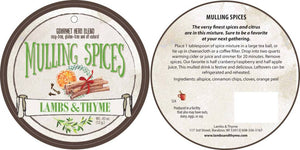 This blend of spices and citrus is a true mulling blend, not just a sugary mix.
Simmer with cider or juice for 20 minutes. Blend it with half cranberry juice for a Wisconsin style beverage. Can be refrigerated and reheated.
Enjoy this festive drink all winter long, but it is especially nice during the holidays. Serve this drink at your next party and send home a packet with your guests as a holiday gift!