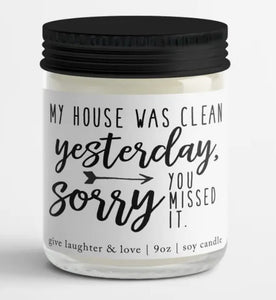 A great gift to give your friend permission to enjoy life and the humans in her house instead of a perfectly clean one. 
100% Natural Soy (Grown and Manufactured in the U.S.)
Hand-poured with Laughter & Love in Mequon, WI
Phthalate Free Fragrance Blends
Braided Cotton with Paper Core Wick (Zinc & Lead-Free)
No Additives (UV Inhibitors/ binders/ stabilizers or artificial colors)
9 oz. Reusable Apothecary (3.75" High X 2.75 DIA) Jar with Strong Metal Lid.
Burn Time: Approximately 40 - 50 hours
After approximately 45 hours of burn time or when the candle wax burns down to 1/4" from the bottom of the jar, simply melt the remaining soy wax in very hot water and wipe clean.