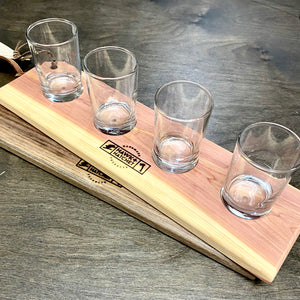 Here's your opportunity to show off your favorite beers to all those you entertain. These beer flights include four 4 oz glasses and are handcrafted with Wisconsin's own hard woods - each with its own texture, grain and colors. Perfect for entertaining with rustic modern class.
Available in cedar and walnut. 
Each beer flight includes four 4oz glasses. To care for your flight simply wipe with damp rag, dry quickly and condition with mineral oil as needed.