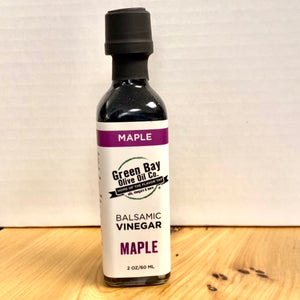 This Maple Balsamic is unique and delicious.  No added sugars other than what is inherent in Maple Syrup.  This Balsamic is paired excellent with Harissa Olive Oil.
Serving Suggestions: Think Bacon, Pork, Chops, Salmon, Root Vegetables, any BBQ Sauce, Pancakes, Waffles, Fruit, Fresh Salad, Ice cream, Dressings, and whatever meets your needs.
Warm and pour over pancakes, or dunk French toast strips.  Works as a health substitue for brown sugar in your oatmeal.