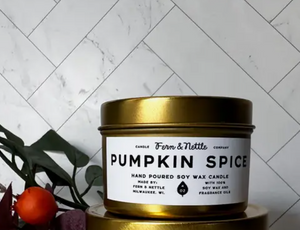 Fragrance Notes:
Top: Pumpkin, Brown Sugar

Middle: Cinnamon, Clove 

Base: Vanilla, Nutmeg, Buttercream  
Made with 100% American-Grown soy wax and fragrance oils free from carcinogens, reproductive toxins, and other potentially hazardous chemicals often found in fragrance. Lead-free cotton-core wicks. 
Candle Care: On the first burn, allow the melt pool to reach the edges of the glass tumbler. This will help to prevent tunneling and give your candle a nice even burn.