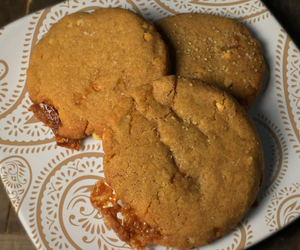 The only risk to be taken with this decadent peanut butter cookie oozing caramel and dusted with Himalayan Sea Salt is how many you eat.
Cookies come in a 2-pack. 
Ingredients: butter, flour, sugar, peanut butter, peanut butter powder, caramel, coconut oil, sea salt, vanilla extract, eggs, vanilla, himalayan sea salt, whiskey, cinnamon, cumin, ginger, lime.  Contains: milk, wheat, peanuts, coconut
*If you happen to not eat them immediately, feel free to pop them in the freezer for a longer lasting taste!