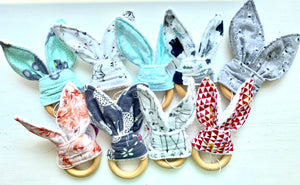 Support your child's early motor skill development with these adorable toys. Your baby will work on their hand and eye coordination while they are able to relieve discomfort from teething. Did you know that wood has natural antibacterial and antimicrobial properties? This makes wood a better teething toy! The terry cloth backing helps to take care of the drool that is often associated with teething. This is the perfect toy for your little or a baby shower gift!

Products: 100% Organic Maple Wood which is treated with an organic beeswax. Made and grown in the USA. Cotton fabric with terry cloth backing or a soft minky fabric.

Dimensions: Organic wooden ring is 2.75 inches across

Washing instructions: Can be washed with mild soap, the fabric bunny ears can be removed and washed as well! Do not submerge wooden ring under the water.

Babies should always be supervised by an adult while playing.