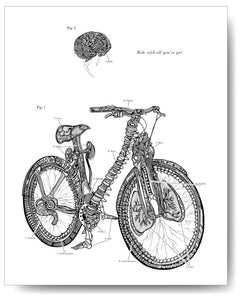 FRONT:
Anatomical & artistic drawing of a bicycle made out of body parts. Each body part is labeled like a medical illustration. Fig. 1 is the bicycle and Fig. 2 is the bike helmet which is represented as the brain.
Words printed at the top are:
"Ride with all you've got"FACT ON THE BACK:
Riding a bike could be one of the best exercise options around - not only because it's good for your body, but it's good for the environment as well! It's great for building strength and stamina without putting extra strain on your joints and it's fun to do with others or alone. Biking can be enjoyed at any level of fitness as well - it just makes you feel good!
Printed on Epson Luster Photo Paper with Genuine Epson Ink
Comes with a protective sleeve and a backing board